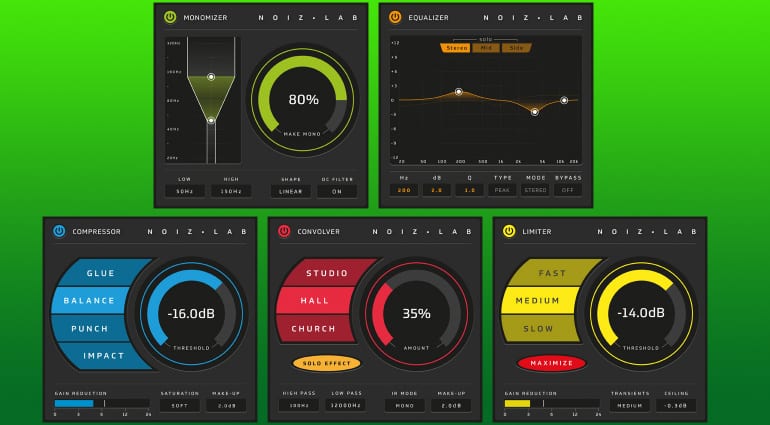 Despite extensive coverage of the subject and the advent of automated tools like oZone 9's Mastering Assistant, mastering audio still has an aura of mystery for many producers. These days, the process of finalizing a track or album can be as involved and esoteric as you want it to be. You can tweak multiband compressors with subtle 0.1dB movements till you ears bleed from the strain, hire an online mastering service to do the work for you, use an AI to get started… or do one more thing.
The One Hour Mastering Workshop
Author JD Young has put together a very interesting package. The One Hour Mastering Workshop consists of a book called Home Studio Mastering and a suite of straightforward "one knob" plug-ins, each tackling a specific aspect of the typical audio mastering process. So you get both the tools and the knowledge to do – and learn – reasonably proficient mastering on your own!
The Free Mastering Bundle
Even better – the tools and knowledge are free. The Free Mastering Bundle includes a whole chapter from the book, along with five full-fledged mastering plug-ins. What you get is the monomizer, equalizer, compressor, convolver and limiter. Monomizer lets you lock the low end dead-center so you don't get any stereo weirdness upon playback. The equalizer is a modern graphical EQ that you can tweak to taste. The compressor has four settings – Glue, Balance, Punch and Impact. Just dial in the threshold and you are set. Convolver is a basic reverb featuring studio, hall, and church reverbations. Finally, Limiter gets your audio up to the needed loudness with Fast, Medium and Slow settings to obtain different limiting characters.
I think it's incredible this whole thing is being given away for free. The plug-ins alone could be an USD 99 bundle, but you get them for 0 and you even get a book chapter thrown in. I reckon many home studio producers that don't have the time or desire to delve deeper into the software/hardware can make great, practical use of these plug-ins and the information from within the chapter. I can't imagine a better starting point for learning the trade – you get the tools, the knowledge, and the practical results, without spending a dime. Killer!
The plug-ins are available in VST, VST3, AU, and AAX formats for Windows and macOS computers. Throw in a free DAW like Tracktion Waveform 11 or the extended trials of Logic Pro and Ableton Live, and you have yourself sorted for a good bit of time!
More information
Video
The post A killer intro to mastering: 5 plug-ins and a tutorial book chapter all for free! appeared first on gearnews.com.
…
From: gearnews.com | www.gearnews.com/a-killer-intro-to-mastering-5-plug-ins-and-a-tu…