(Isn't the album cover extremely awesome?)
As a grizzled veteran of the rock 'n' roll rollercoaster, having clocked up a half-century on this spinning rock we call Earth, I've been a passenger on the Extreme journey since the band's genesis in 1985. Their latest offering, "SIX", is a testament to their musical evolution, a sonic tapestry that weaves together the threads of their past while boldly striding into uncharted territory.
"SIX" opens with "Rise", a track that hits you like a shot of adrenaline straight to the heart. It's a powerful opener that sets the tone for the album, a narrative about the fickle nature of fame that resonates with anyone who's been around the block a few times. It's a reminder that success is transient, a theme that echoes through the annals of rock history and reverberates in the hearts of seasoned fans like me.
Next up is "#Rebel", a track that lives up to its name in every sense. It's a rebellious anthem that channels the spirit of Marilyn Manson, a stark departure from Extreme's usual style. It's a bold move, but it's this willingness to push boundaries and experiment with new sounds that has kept Extreme relevant over the years.
"Banshee" and "Other Side of the Rainbow" offer a softer side of Extreme, with their intimate ballads that hark back to the band's earlier days. These tracks are a comforting reminder of the band's roots, a nostalgic nod to the past that old fans like me can appreciate. They're like a warm blanket on a cold night, a familiar comfort that wraps you in a cocoon of melodic memories.
"Small Town Beautiful" and "The Mask" continue this trend, with their well-crafted rock music that breathes the spirit of the 90s yet finds its place in the here and now. These tracks are a testament to Extreme's ability to evolve while staying true to their unique sound. They're like a fine wine, maturing with age yet retaining the essence of their original flavor.
"Thicker Than Blood" and "Save Me" are where the album takes a turn. These tracks are a departure from the band's usual style, with a modern, US mainstream rock sound. It's a surprising twist, but one that showcases the band's versatility. It's like stepping into a time machine and being catapulted into the future, a thrilling ride that leaves you breathless and eager for more.
"X Out" is undoubtedly the standout track on the album. It's a kaleidoscope of influences and styles that highlights Extreme's musical range. Bettencourt's guitar work here is particularly noteworthy, with dazzling riffs reminiscent of Van Halen and a musical structure that echoes U2's modern phase. It's a sonic masterpiece that showcases the band's musical prowess and creativity.
On the other end of the spectrum is "Beautiful Girls", a track that can only be described as an inexplicable mishap on an otherwise flawless album. Despite the band's obvious musical prowess, this song seems to fall out of line and doesn't quite fit with the rest of the album. It's like a jigsaw puzzle piece that doesn't quite fit, a perplexing anomaly in an otherwise seamless sonic landscape.
The album concludes with "Here's to the Losers", a poignant ballad that serves as a fitting end to the musical journey that is "SIX". It's a reminder of the band's ability to evoke emotion through their music, a skill that has remained consistent throughout their career. It's a heartfelt farewell that leaves you with a sense of satisfaction and a longing for more.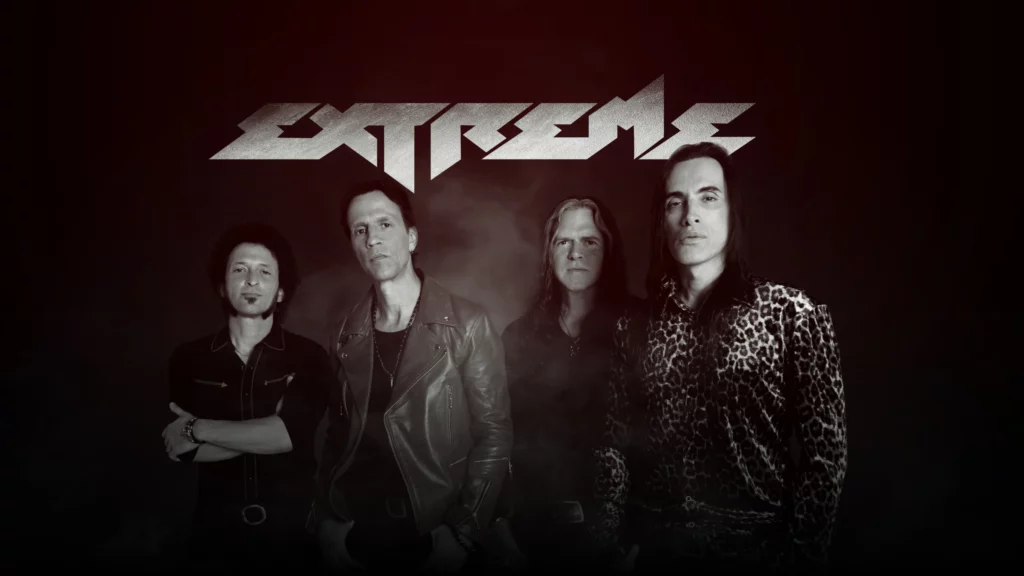 "SIX" is an impressive album that showcases Extreme's musical maturity and creative diversity. It's a testament to the band's ability to evolve while preserving their unique sound. It's an album that will delight long-time fans of the band, like me, as well as those being introduced to their music for the first time. It's a rollercoaster ride of musical mastery and unexpected turns, and one that I'm glad to have been a part of.
To further immerse myself in the Extreme experience, I plan to attend one or two live shows in 2023. There's nothing quite like the electrifying atmosphere of a live concert, the raw energy of the band, and the collective excitement of the crowd. It's an opportunity to witness the magic of Extreme firsthand, and I'm eagerly looking forward to it.
For those who wish to join me in this musical journey, you can purchase the album and merchandise on the band's official website here. The site also provides updates on the band's upcoming live shows, including dates in the US, Australia, Japan, the United Kingdom, and several European countries.
Footnote: In my enthusiasm for the album, I sought to purchase the t-shirt featuring the striking gorilla album cover, only to find it was sold out. A testament, perhaps, to the widespread appeal of this latest offering from Extreme. Here's hoping for a restock soon. After all, what better way to celebrate the release of "SIX" than by wearing it on your chest?